Blood circulation, tension and the inner ear are the common, but often overlooked, culprits in the majority of migraine cases. Bruxism (unconscious teeth clenching and grinding) restricts blood flow, causes severe muscle strain, and restricts fluid motion within the inner ear. Bruxism can cause a host of problems to include: vertigo, tension headaches, ringing in the ears, neck pain, jaw pain, and

painful migraines

!
Tracking the Temporalis
Whenever we clench or grind our teeth we contract our temporalis muscles. Unfortunately 1 out of 3 people clench and grind their teeth during sleep. Prolonged contractions of this powerful muscle can restrict blood flow, fluid motion and creates painful tension which often results in migraines. The BruxRelief device and app use patented sensors, artificial intelligence, as well as built-in wellness features to help users reduce and potentially eliminate bruxism behavior and migraine pain.
HOLISTIC CARE, BUILT-IN WELLNESS
​
Migraine inducing bruxism is a complex unconscious behavior. Luckily, migraine symptoms can be reduced with a holistic wellness approach. With your 30-day trial of BruxRelief+ you'll be able to reduce stress, reduce bruxism behavior, reduce or eliminate migraine pain and you'll be able to track your progress along the way.
Wellness Resources
Alleviating migraines takes a holistic approach. BruxRelief+ provides you valuable resources to alleviate your migraine symptoms & bruxism pain. Video/audio modules and guides help you reduce stress, form better habits and make healthier choices.
Journaling & Trends
Keep track of your dietary intake, habits, stress levels and symptoms daily and use trends analysis to reveal behaviors that may be contributing to your migraines and bruxism behavior so you can change them.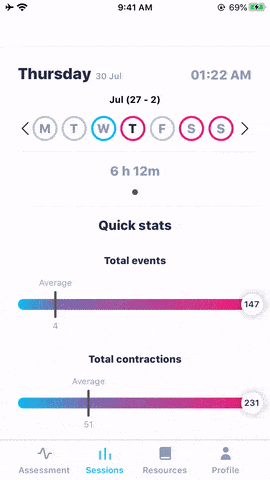 Sleep Analytics
Track your progress along the way with in-depth sleep analytics. Know instantly each morning whether you improving your sleep quality and reducing the bruxism behaviors causing your migraines.
GET YOUR 60-DAY TRIAL
Reduce or eliminate your migraines risk free. Try BruxRelief+ wellness device for sixty days, risk free.
Just pay shipping & handling fee.