Tracking the Temporalis
Whenever we clench or grind our teeth we contract our temporalis muscles. The BruxRelief uses artificial intelligence to track temporalis contractions and provides in-depth sleep analytics.
Instant Access
During your three day assessment, each morning you and your clinician will get instant access to your assessment results. Only your clinician can diagnose bruxism, but your assessment results will provide an awareness of your clenching and grinding activities during the night.
AFTER YOUR ASSESSMENT
​
If you have been diagnosed with bruxism, you and your clinician will discuss treatment options such as a custom night guard to protect your teeth from any further damage.
BUILT-IN WELLNESS FEATURES FOR PAIN
​
Bruxism is a complex unconscious behavior. While interventions like night guards will protect your teeth, they don't necessarily stop the behavior. Besides tooth damage, long term bruxism can cause painful symptoms like headaches, migraines, neck pain, jaw pain, dizziness or tinnitus (ringing in the ears). BruxRelief+ will allow patients to access built-in wellness and behavior modification features to address these related conditions.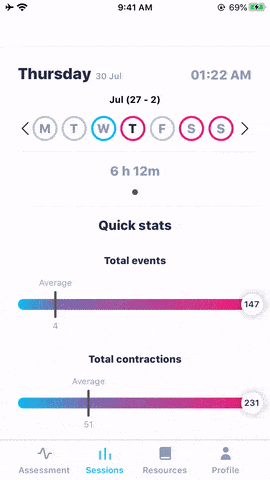 Sleep Analytics
After each session you will have access to all the same in-depth data your clinician receives with an intuitive display of your nightly clenching and grinding activities. You'll be able to easily track your progress along with your clinician.
Journaling & Trends
Keep track of your dietary intake, habits, stress levels and symptoms daily and use trends analysis to reveal behaviors that may be contributing to your bruxism so you can change them.
Wellness Resources
Alleviating bruxism takes a holistic approach. BruxRelief+ works in conjunction with your clinician's prescribed treatment to provide you valuable resources to alleviate your bruxism pain. Video/audio modules and guides help you reduce stress and make healthy choices in reducing your bruxism.
FIND A BRUXRELIEF PROVIDER
​
If you are interested in connecting with a clinician providing BruxRelief assessments and BruxRelief+ wellness features please submit your name and email in the form below and we will contact you with more details.